Key Accounts Leader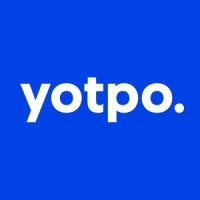 Yotpo
Toronto, ON, Canada
Posted on Thursday, April 13, 2023
If you shop online (and who doesn't these days?), then chances are you've already interacted with Yotpo. We're a leading eCommerce marketing platform, on a mission to help brands of all sizes accelerate their growth through exceptional customer experiences. Loyalty programs, SMS marketing, reviews, and visual user-generated content are our bread and butter, but we have more solutions up our sleeve, too.
We have teams across the world, including the US, UK, Israel, Bulgaria, and Australia — and we're still growing. Our primary goal is to deliver the best technology in the industry.
You can hear all about it in our latest brand video.
Sounds exciting? Then read on, because we're in pursuit of the best and the brightest minds to help us achieve our vision.
As Yotpo continues to expand its platform offering and acquire additional customers, the Key Account Management team plays a crucial and increasingly large role in driving revenue growth across the business. The function exists to cultivate long-term strategic partnerships with our most influential customers, while driving customer lifetime value for Yotpo.
As a Key Account Leader, you're a front-line team leader who can successfully navigate large organizations to influence business outcomes, articulate Yotpo's value proposition to C-level executives, and build partnerships.
You'll lead a team of Key Account Managers who are relationship-based, consultative sellers, who deliver on their respective account leadership, sales, and value realization goals. You will model best-in-class behavior, and take direct ownership for the success of the team in all areas including hiring, onboarding, continuous training and maintenance of YoY growth targets.
You enjoy leading cross-functional initiatives and building mutually committed relationships through your teams, with customers. You like finding innovative solutions to business challenges and can transition flexibly from technical to commercial discussions. You creatively add value throughout the customer lifecycle with the goal of identifying and unlocking incremental revenue opportunities.
You'll be part of the founding team in Toronto! We've just launched our first Canadian office in February 2023. 🇨🇦
How you'll make impact:
You'll lead a team of Key Account Managers, helping them navigate complex sales cycles and be a trusted advocate for the customer.

Expand customer base by coaching the team in driving value realization across our multiple product lines through consultative methods that address customer pain points and business initiatives.

Support the team through prospecting and entrance into key large, complex organizations to drive alignment, uncover new business opportunities, and generate pipeline.

Build and maintain executive relationships with key customers; and working directly with your team on key opportunities.

Partner cross-functionally to mobilize resources and expertise in support of account plans and advance shared Yotpo-customer goals.

Plan and manage our key account strategy at both the strategic and operational levels.

Exceed revenue targets for you and your team.
About you:
5+ years of successful sales leadership experience across complex sales cycles.

Experience in business application software, as measured by sales performance against goals.

Strong negotiation skills and an ability to influence internal and external stakeholders.

Inherently collaborative; demonstrated mastery of cross-functional leadership.

Proven ability to establish and grow C-level relationships.

Consistent track record of leading teams through reaching and exceeding revenue targets.

Adept at solving problems that span business and technology.

Valid local country work authorization required to apply.
Bonus Points For:
Experience in e-commerce, enterprise software
If you don't meet 100% of the qualifications outlined above, that's okay! We believe in hiring people, not just skills. If you have a passion to learn and are excited about eCommerce and technology, then we want to hear from you.
About Yotpo CAN:
Company sponsored RRSP matching.

100% coverage of additional benefits programme.

Equity in options.

Individualized career development, rewards and recognition.

Wellness and philanthropic programming and events.

Once we open an office space locally, we expect to work in a hybrid capacity.

Meet some of the team: Peter Borkovich, Asaf Frige, Robin Lee, Jackson Seidl, Jennie Xu
Yotpo's employee-centric culture has consistently earned us coveted spots on Built In's Best Places to Work lists across North America over the years. Directly inspired by employee feedback, we create opportunities to bring our teams together. Yotpo programming includes team events, educational fireside chats, end of year celebrations, affinity groups and partnerships.
Yotpo is for everyone, and we're committed to anti-racist work. We welcome and employ people regardless of race, color, gender identity, religion, genetic information, parental or pregnancy status, national origin, sexual orientation, age, citizenship, marital status, disability, or Veteran status. We are proud to be an equal opportunity employer, where your voice is heard and your perspective is encouraged. Come join us and help us build a global company where we're all proud to belong.